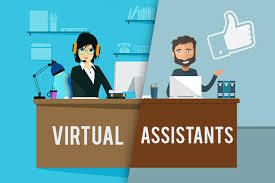 In a recent survey by Nuance Communications on customer expectations and preferences, it was revealed that almost 89 percent of the consumers expect to engage with virtual assistants to quickly get information on various things. In the same survey, it was found that around 73% of the consumers want personalized customer service. In the light of these data findings, it can be said that hiring virtual assistants is beneficial for a company that is focusing on optimum customer satisfaction.

Mitul Palan, the founder of Brainworks Private Limited with more than 17 years of experience in call center says that if a company is aiming for better customer engagement with the brands, it is very important to hire virtual assistants.

How does customer engagement help in growth?

Almost every business expert is talking about customer engagement and relating it to the growth of the respective organization. But how? Here's an elucidation...

If you are the entrepreneur of a startup or are planning to grow your company, you probably need more time to focus. Mitul Palan, Mumbai based entrepreneur says that a small business entrepreneur should dedicate more hours to the most important parts of a business. This means they should leave the important, but repetitive and easy tasks to professionals who can handle those better. For instance, making calls to the potential customers to let them know about your business and its products and services. This would take a lot of precious time if you are planning to do it on your own. Thus, leave such tasks to virtual assistants and you'll get enough time for improving other aspects of the business.

Furthermore, if you wish that it would have been better if you could generate more leads, leave the outbound services to the customer care executives. They are well trained and experienced to handle such matters. They will help you connect with the people who are actively looking for the products and services that your company deals with.

Increase engagement not just through calls!

Mitul Palan alerts that today it is not just through phone calls that a company can engage its customers. Most of the customer-company engagement happens over social media channels. Thus, it is also important for a company to hire virtual assistants for managing the social media networking. This lets the company engage with existing and target customers better in real time. Thus, the customers get the feeling that there are real people behind the brand. This, in turn, helps in forming better brand loyalty and customer satisfaction, which are needed for the growth of the company.

Maintaining your reputation is as important as engaging the customers

Customers tend to rely on a brand that responds promptly to their queries and questions. These days most of the companies are focusing a lot on customer satisfaction. Virtual assistants will communicate directly with the existing as well as potential customers and will engage them in relevant conversations. This, in turn, helps to develop leads for your company. You can also generate leads through customer recommendations and references. Often there are many customer service issues that get overlooked if such tasks are not managed by VAs. The professionals are experienced to manage all aspects of customer relationship with a company. Thus, all the issues are sorted out in time. So, wait no longer. If you are aiming for a fast growth of your company and better customer satisfaction, hire VAs to engage your target audience.